About TeleTime Video
We Tell Stories. Here's Ours:
Who
We are a comprehensive video production company that has produced every type of video communication imaginable.
In the Beginning
It began in 1976, when Nan and Harold were dating in college. Harold was attending his television lecture and his professor announced, "Probably none of you will have a career in this field. Most of you will be found selling cars in used car lots." That motivational speech was all Harold needed to map out a plan for the future with Nan. Tapping into his sales and retail savvy, he convinced his school's video department to lend him their black-and-white video equipment and he proceeded to pound the pavement. A few retailers took notice of the state-of-the-art technology, and agreed to participate in the service he and Nan proposed: employing video window displays as a marketing technique to entice a passerby to enter their shops. The idea of video was so new at the time (pre-VHS) that Nan and Harold had to lend video equipment to play the video to those that used their service.
Growth
We began working with small retailers, then evolved to meet the demands of some the most respected companies in the world – eventually ranking on Inc. Magazine's 500 list. We have produced thousands of videos over the years. Aside from creating a multitude of videos to satisfy the aspirations of all departments within companies, we also developed an array of video published products and co-ventures with Inc. Magazine, Black Enterprise, The Hearst Corporation, Clairol and Ad Age. Current distribution includes the Young Entrepreneurs Series, Inc. Magazine's Complete Series on Starting and Growing a Business and Salon Success, an educational video series designed to help salon owners grow their businesses.
Attitude and Approach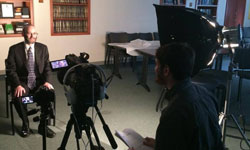 Our main goal has always remained the same: to satisfy clients' communication objectives and exceed expectations. While we have won numerous awards, we recognize that our focus is to have our work to do the following: stimulate prospecting, make the sale, enhance branding, educate the team, recruit the high value employee, engage and enlighten, increase the stock price, design and present content that engages, enlightens and allows for retention.
Looking Back and Ahead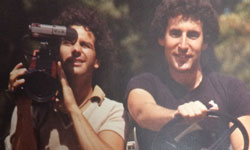 It has been a long time since TeleTime first started in a Brooklyn basement. Reflecting on what has insured our longevity – aside from keeping up with the tech stuff, producing quality work and thinking out of the box – we firmly believe our commitment to the ethical values involved in conducting business. Quite simply, we stand behind our name and that is something you can always count on. Oh, we are also fun to do business with.
View the full story on TeleTime in Harold's entrepreneurial lecture at Brooklyn College here.
Read about Teletime's founders.